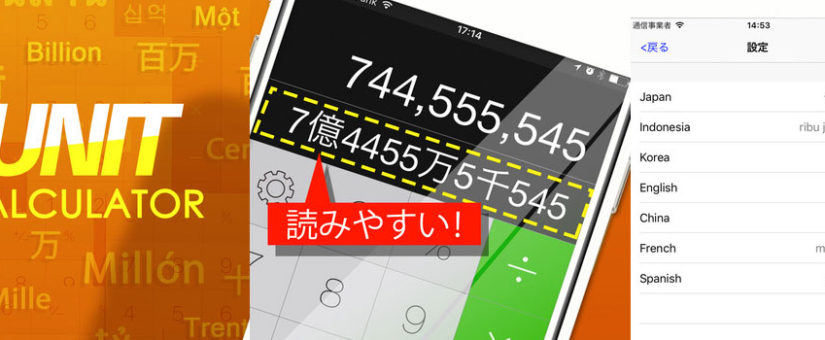 A convenient calculator app for iPhone that also includes the units of Chinese characters "Unit Calculator-Do not mistakenly read the digits"
Gloding Co., Ltd. has released a calculator app for iPhone, "Unit Calculator-Do not misread digits", and started distribution on the App Store. At first glance, the app looks like a simple calculator, but the calculation results are written in Arabic numerals and the units are written in Chinese characters, making it a convenient tool that is easy to read and makes it difficult to make mistakes in counting digits.
When you look at a number with a large number of digits, you often identify the number by counting the digits, such as one, ten, one hundred, one thousand, ten thousand, and so on. For example, if the calculation result is displayed as "1,482,027,642", if you are accustomed to it, you can read it as "1,482,727,642" by the scale comma, but there are many cases where it is difficult to distinguish instantly. .. To solve such problems of users, "Unit Calculator-Do not mistake the digits" saves the time and effort of reading numbers with many digits by writing them in an easy-to-read manner.
As a calculation result, for example, the number "765,005,000" is displayed in two formats: "765,005,000" and "765,500,000" separated by commas and kanji. In addition, the numbering system of various countries such as Japan / China / Korea / Indonesia / Spain / France supports it.