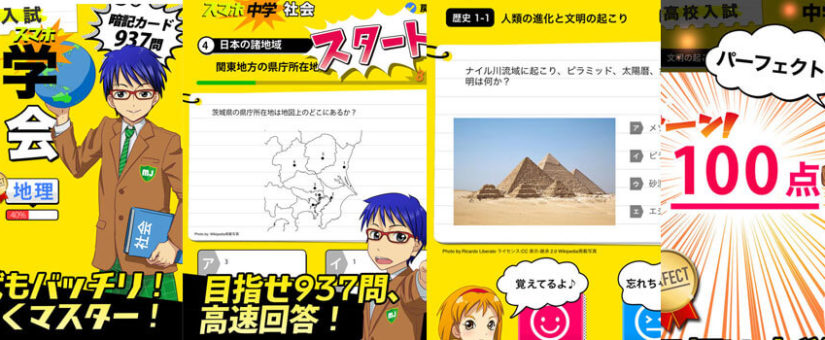 The second part of the smartphone junior high school series for high school entrance exam preparation, "High school entrance exam junior high school society"
Gloding Co., Ltd. has started distribution of the second smartphone junior high school series "High School Entrance Examination Junior High School Society" for Android.
Features of "Social Smartphone Junior High School Series"
History (465 questions) and geography (472 questions) will be answered separately for each theme, so you can study pinpointly.
Two to four answer options will be displayed for the question, so choose from them.
Since the correct answer rate of each field is displayed as a percentage, you can easily grasp your own learning situation.
A detailed explanation will be attached to each problem. Also, if you make a mistake once, it will be saved in the "Not good list" on the home screen. You can learn what you are not good at as many times as you like, so it is recommended for learning in your spare time.
■ Functional configuration ■
-"Check"
You can check the basic knowledge of each unit by "Remember!" Or "Forgot".
-"Test"
Shows questions and answer choices for the field. When you have answered all the questions, the score will be displayed.
-"Disadvantage list"
You can check the problems that you made a mistake in the test for each unit.